With electrical failures on the rise due to aging infrastructure and the increase in severe weather events, it's never been more important to consider your options for a backup power source. Having an energy source to fall back on during rolling blackouts or a power outage can ensure your perishables stay fresh and you're able to enjoy the AC on hot days and the heat on cold days.
You probably already know that investing in a backup is a good idea and you may have even started your research on purchasing or switching to solar and/or whole-home battery backup storage., but which option is the best choice for your home and circumstances?
To help you choose, in this blog we'll explore:
How generators work
How whole-home battery backup works
How to decide which one is best for your needs
---
Get honest advice and a FREE estimate from Burgeson's!
Call us at (909) 792-2222 to get knowledgeable answers to all of your back up battery and generator questions. Or click below to schedule a FREE in-home estimate. With hundreds of 5-star reviews from happy customers, it's no wonder why Burgeson's is the Inland Empire's top choice for whole-home battery and generator installations done right.
---
How Generators Work
Generators provide electricity by converting it from mechanical energy. A home generator works with a large engine that turns its electrical conductor in a magnetic field. Electrical charges from the conductor are forced out by the rotation, traveling through to an external circuit. This is the electrical current that is used to power your home.
Generators come in a variety of sizes and, generally, the larger the generator, the more power it's able to put out. Fuel is needed to start and operate the internal engine. Although there are generators made to take many different fuel types, the most common is natural gas, followed by propane.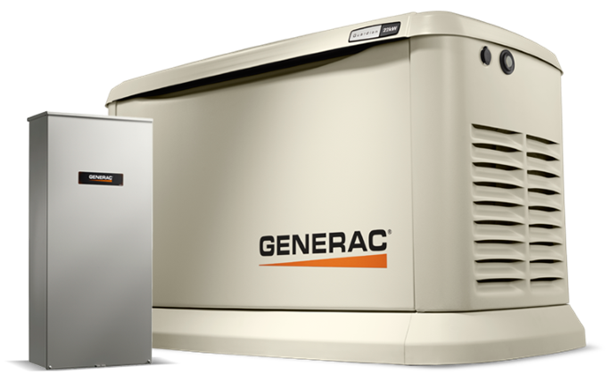 With the evolution of technology, most home generators offer additional features that increase their convenience. Some generators can automatically detect when the power has gone out and will switch themselves on, even if you aren't home. More advanced systems have remote monitoring controlled and monitored by apps you can download on your mobile device. They can keep you updated when your power goes out and let you know the status of their operation.
How Backup Batteries Work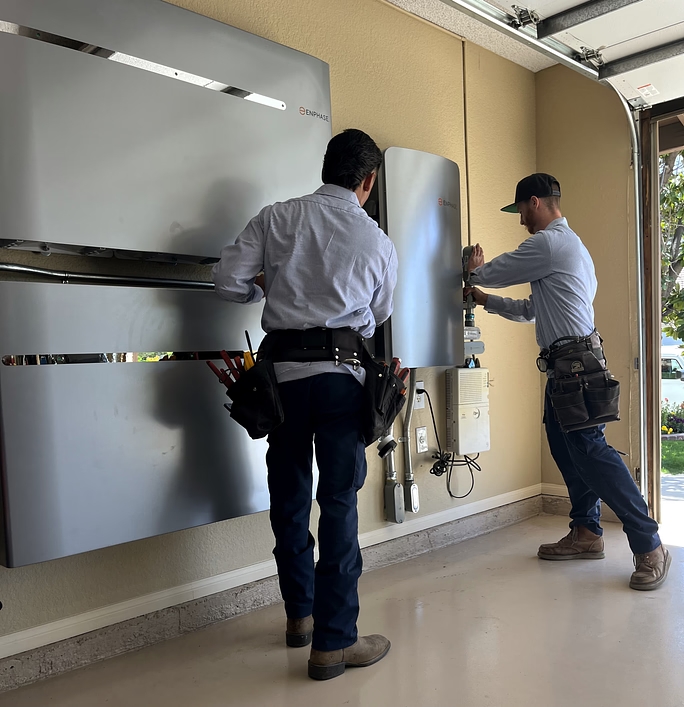 Whole-home backup batteries are especially sophisticated, however. Since batteries need DC (direct current) to charge and the energy coming from the solar panels is AC (alternating current), some solar batteries are built to be AC batteries. They have the ability to convert the AC current to DC when they are accepting a charge. When that energy needs to be sent back out to power the home, the DC is converted back to AC. There are also DC solar batteries that require the use of a separate inverter to operate.
Once a power outage is detected, the backup batteries will kick on to provide the home with the power they have stored. These batteries can also be used to supplement during periods of the day when energy prices are at their highest. This is common for those who are locked into a time-of-use (TOU) plan.
To learn more about saving money through solar energy, check out our blog, "Solar Education: California Net Metering 1.0 Vs. 2.0 Vs. 3.0."
How to Decide Which One is Best For You
The biggest factors to consider when choosing between a home generator or a backup battery are your energy needs and your infrastructure. Once you've determined your needs and what's possible for either option, it's time to look into what it's going to cost to install and operate your chosen energy source.
Energy Needs and Priorities
Powering a home, on average, requires around 20 kilowatts of power. A home generator or backup battery can both easily accommodate these needs. If your home is particularly energy heavy, either option can provide as much as 50 kilowatts, however, a generator can sustain power for a longer period. If you don't have solar panels installed, live in an area with limited sunlight, or you just have a very large home that requires significant energy to power it, a home generator might be the best choice.
Backup batteries can take up significantly less space and offer the chance to tap into a renewable energy source. If you care about conserving space, want something that is gentle on the environment, and are looking for ways to reduce your energy bill each month, a backup battery has the potential for them all.
Installation and Operating Costs
Installation of a generator can be fairly complex. A concrete pad is often needed to place it on and permanent gas lines will need to be installed to supply it with the power it needs. The expense of the gas needed to use it must also be factored in.
Backup batteries are light and compact enough to be attached to a garage wall. If you pair them with solar panels, however, they will need to have an appropriate place for the installation of the panels that exposes them to direct sunlight without obstacles to get in the way. If you have a reliable sunny space for your solar panels and are prepared for the expense of installation, they are an excellent long-term option because using them to charge your whole- home backup battery is free.
---
Want a backup power source for your home? Get a FREE estimate from Burgeson's.
Burgeson's has been a trusted, 3rd generation family business since 1949. Our reputation for honesty and integrity is the cornerstone for our transparent prices and 100% satisfaction guarantee. Contact us today so our friendly and knowledgeable technicians can help you find the right backup energy storage option for your needs. Our in-home estimates are always free!